Manta Ray Snorkeling Day Trip from Nusa Lembongan to Nusa Penida
Snorkeling with Manta rays - This package is suitable for people who are already in Nusa Lembongan. It's a short trip of 3 to 5 hours visiting three different spots to snorkel. When the weather and water conditions allow, we will visit Manta Point or Manta Bay. All spots will be decided by our guides for safety measurement.
Manta Point and Manta Bay are famous for its Manta Rays as these places are rich with plankton where the manta usually feed. So these places have a higher chance to spot Manta.
Snorkeling Day Trip from Lembongan to Nusa Penida ( Package D )
This package is the best way to enjoy the snorkeling around the three islands of Paradise and also to explore the beautiful of Lembongan island. We provide you the best program for the day and it includes:
Return Hotel Transfer from Nusa Lembongan Island (Hotel in lembongan Village) Pick up Time 9:45am (Hotel in Jungutbatu area) Pick up time 10:00am.

Welcome drink and traditional snack.

3 spots snorkelling in Nusa Penida and Nusa Lembongan or Nusa Ceningan from 10:45-13:30 (if the weather is good we go to Manta Bay, Toyapakeh wall and Mangrove point, and if big swell we go to Ceningan, Toyapakeh and Mangrove point).
Buffet lunch (Indonesian food) includes juices and mineral water from 13:30-14:30.

Towel, Mineral water & locker.

Snorkelling equipment.

Snorkelling Guide with small group.

Mangrove Tour with Kayak inside the mangrove forest from 14:30- 15:15.

Insurance.
Duration : 5 hours (approx).
Min. Order : 1 Pax.
Location : Nusa Lembongan, Nusa penida ,  Bali, Indonesia.
IDR 550.000/Person
Now: IDR 440.000/Person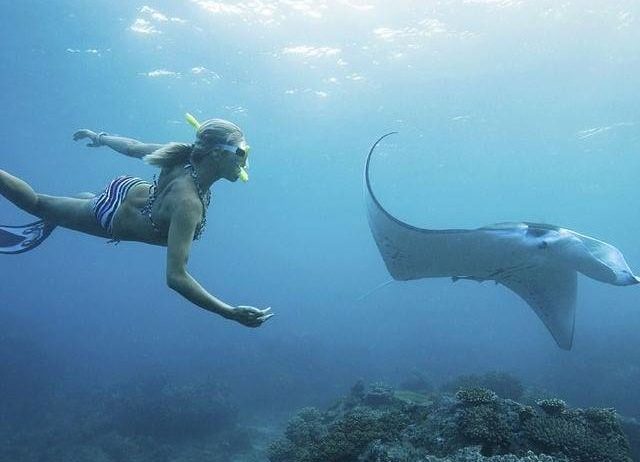 Snorkeling Day Trip from Lembongan to Nusa Penida ( Package E )
This package is the best way to enjoy the snorkeling around the three island of Paradise and also to explore the beautiful of Lembongan island. We provide you the best program for the day and it includes:
Duration: 3 hours (approx).
Min. Order: 1 Pax.
Location: Lembongan, Bali, Indonesia
IDR 350.000/Person
Now: IDR 250.000/Person